The science of motion, the feeling of wellbeing. We use therapeutic movement programs, education and manual therapies to improve your
health and quality of life.​
Your Dedicated Therapists
Physiotherapist/Clinic Owner
BScPT, MScPT, Certified McKenzie MDT Clinician
As an experienced Physiotherapist, Yolanda provides excellent patient-centered care, with the perfect balance between a hands-on approach, exercise prescription and carefully chosen modalities. She actively involves her patients in their own care and empowers them with the necessary tools to reach their goals. Yolanda has been working in private practice since her graduation, particularly in the treatment and management of musculoskeletal and neuromuscular conditions in clients of all ages.
Massage Therapist/Clinic Owner
MTANS #14004
Holly is a Registered Massage Therapist with a passion for improving her patients daily lives and activities. She has always been interested in the human body, and it only took the one treatment for her to fall in love with the benefits of massage therapy. Now, after providing thousands of treatments herself, she has a wealth of experience as a Massage Therapist. Holly is an attentive and open therapist who listens and responds to all of her clients' needs.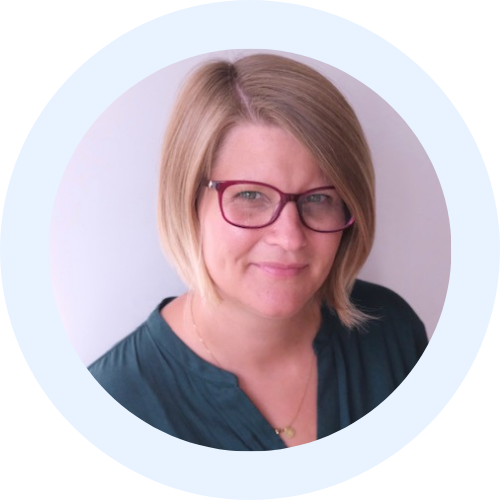 Massage Therapist
MTANS # 05051
Anette is a Registered Massage Therapist who takes great pride in helping people through the physical and mental stresses in their lives with her massage treatments. She creates a therapeutic yet relaxing environment, where her patients can step away from their lives for an hour and truly relax. She also strives to alleviate discomfort with her treatments and support her patients through the healing process, while also promoting a healthy lifestyle. Her passion for women's health has been an important part of her career.
Dr. Sasha's practice encompasses chiropractic care for pediatrics, pregnancy, athletes, office workers and families.  She has a passion for treating children, athletes of all ages and individuals with TMJ (temporal-mandibular joint) associated discomfort. Assessments and treatment plans are tailored to the needs of each individual patient and workplace ergonomics are also typically reviewed. She strives to empower and educate her patients to take their health care into their own hands. Patient education is always in the forefront as a way to optimize health and wellness.  
Please note, Dr. Sasha does not offer direct billing. She will provide you with the documentation you need to submit your treatment to your insurance.
Meghan has been a licensed Occupational Therapist in the Province of Nova Scotia since graduating in 2016 with a Masters' of Science in Occupational Therapy from Dalhousie University. Meghan has significant clinical and community experience with Return to Work Planning, Job Site Visits, Home Assessments, Ergonomic Assessments, personal care assessments, goal setting, pain management, private orthopaedic rehabilitation, and energy conservation techniques, working with the adult population. She also received formal training in completing Matheson Functional Capacity Evaluations (FCEs) in 2017. She works closely with interdisciplinary teams to provide the above services, and also assists clients with navigating various insurance systems and connecting to resources. 
Email [email protected] to book with Meghan.
About the Wellness Centre
At InMotion Physiotherapy & Wellness Centre it is our commitment to improve the daily lives of each of our patients by providing dedicated, quality care in a relaxed environment.
Our experience allows us to offer the necessary physical treatments, education, and tools to empower your health and
wellbeing.
For your convenience, your Physiotherapist or Massage Therapist can direct bill major insurance providers such as BlueCross, Manulife, and Canada Life if your plan allows it. We are NOT a WBC group of providers.
We are your trusted collaborative practitioners, actively serving the neighbourhoods of Bedford, Sackville, Kearney Lake, Larry Uteck, Hammonds Plains, and Clayton Park in the Halifax Regional Municipality (HRM).
Move & Improve with Physiotherapy
Physiotherapy is an excellent method of treatment for a variety of physical ailments. We are experienced in treating acute and chronic lower back pain, neck pain, shoulder pain and dysfunctions, chronic pain management, post concussion syndrome, whiplash associated disorder, temporomandibular disorders, and post operative rehabilitation.
Acupuncture Therapies
Acupuncture is a procedure that involves inserting thin needles into specific points on the body. It is a safe and effective form of treatment that has proven to be extremely helpful in relieving headaches, neck pain, lower back pain, knee pain, and other symptoms.

Shockwave Therapy
Shockwave Therapy accelerates the healing process in the body by stimulating the metabolism and enhancing blood circulation to regenerate damaged tissue. It can speed recovery from injuries and symptoms such as Shoulder Calcifications, Achilles Tendinopathy, Bone Spurs, and Plantar Fasciitis.

Bone Fit™ Certified Treatments
Bone Fit™ certified clinicians are trained to optimize physiotherapy treatments for patients with osteoporosis, ensuring they are exercising in the right manner and going through the best possible preventative physiotherapy treatments based on each individual's condition.

Concussion Management
A concussion is a traumatic brain injury that affects brain function. A thorough assessment is first performed to identify the primary cause of each patient's symptoms and then based on the findings, a detailed personalized concussion management program is designed and implemented.
Dry Needling
Dry needling is a treatment performed by skilled, trained physical therapists, certified in the procedure. A thin monofilament needle penetrates the skin and treats underlying muscular trigger points for the management of neuromusculoskeletal pain and movement impairments.

Exercise Prescription
Exercise prescription is a specific plan of fitness-related activities designed to help you move toward rehabilitation or other goals. It's commonly used to recover, manage and prevent injury or chronic conditions. While guidance and supervision is provided, exercise programs require patients to continue on their own.

IASTM
Instrument Assisted Soft Tissue Mobilization (IASTM) is a set of tools used as a skilled myofascial intervention for soft-tissue treatment. IASTM is a hands-on intervention that the therapist uses to improve tissue mobility and reduce pain by utilizing high frequency oscillation with small pieces of metal for stimulation.

Manual Therapy
Manual therapy is a hands-on physiotherapeutic approach. These hands-on techniques aim to relieve pain and promote recovery. This form of physiotherapy differs from other popular forms as the therapeutic techniques are administered by hand, rather than with machines or other devices.

Other Modalities (Ultrasound, IFC)
A modality is a tool or type of treatment used by a clinician. These modalities facilitate an individual's recovery and healing process. Focusing on a particular area the physiotherapist specializes in the application of therapeutic modalities to address specific physical demands.
Taping
Taping is usually undertaken as a protective mechanism in the presence of an existing injury by athletes. Taping or strapping is a therapeutic technique used by physiotherapists for injury prevention, rehabilitation and recovery.
Relax & Rehabilitate with Massage Therapy
In our serene and comfortable environment we provide a variety of customized, therapy-oriented massages including Therapeutic  Massage, Deep Tissue Massage, Schweitzer Deep Tissue Therapy, Cupping, Fascial Movement Taping, and Pregnancy Massage and Birth Counselling,  Craniosacral Therapy, Pelvic Health Therapy, and more. Contact us for an assessment and treatment plan.

Therapeutic Massage
From rehabilitation to relaxation, we design personalized massages using a combination of therapies and techniques. Everyone is different and we design individual massages with the client's needs in mind.

Deep Tissue Massage
Deep tissue massage is aimed at the deeper tissue structures of the muscle and fascia. The pressure is more intense than a relaxation massage. It's a perfect option when experiencing muscle tension or chronic pain.

Pregnancy Massage
Pregnancy massage focuses on the special needs that develop as the body changes during pregnancy. It enhances the function of muscles and joints, improves circulation and general body tone, and relieves mental and physical fatigue.
Cupping
Cupping therapy is an ancient form of alternative medicine in which a therapist puts special cups on your skin for a few minutes to create suction. It is used to treat pain, inflammation, blood flow, relaxation and well-being, and as a type of deep-tissue massage.

Fascial Movement Taping
Fascial Movement Taping is an innovative, non-invasive technique that has been used in the field of sports medicine over the past two decades as a treatment for people who suffer from sports injuries and pain.
Craniosacral Therapy
This type of bodywork relieves compression in the bones of the head, sacrum (a triangular bone in the lower back), and spinal column. CST is noninvasive and uses gentle pressure on the head, neck, and back to relieve the stress and pain.

Pelvic Health Therapy
Massage therapy can work on all the muscles that attach to the pelvis; hamstrings, hip flexors, glutes, your core. The pelvic floor contains many ligaments and muscles that interconnect and act as a base of support for the pelvis.

Schweitzer Deep Tissue Therapy
This form of Deep Tissue Massage therapy increases the level of depth that can be achieved while providing the least amount of discomfort to the patient. It is a perfect option for chronic pain.
Treat & Repair with Chiropractic Therapy
Chiropractic therapies are used to treat a wide range of health problems, from headaches to lower back pain. Find out what Dr Sasha can do for you by booking with her today!
Spinal and Extremity Manipulation
Spinal manipulation is a safe and effective treatment for many different musculoskeletal complaints. It involves moving your spinal segments through their natural range of motion to ease joint stiffness, reduce inflammation and restore normal range of motion. Through manipulation, it is normal to hear a popping sound, also called a cavitation.
Manual Soft Tissue Mobilization
Manual Soft Tissue Mobilization (MSTM) is a form of manual therapy used to treat soft tissue injuries including muscle strains and sprains. MSTM aids in recovery by relaxing tense muscles, increasing blood flow, and by improving muscle and joint range of motion.

IASTM
Instrument Assisted Soft Tissue Mobilization is a form of soft tissue mobilization where the practitioner can utilize an array of tools to perform your myofascial intervention. The instruments may help the practitioner while working on a particular area of the body.
Exercise Prescription
Exercise prescription, in addition to passive care such as manipulation and soft tissue therapy, is an important component to recovery. Patient engagement through active care can help empower the patient, increase confidence in their own capacity, and improve pain and function.
Movement Analysis
What is movement analysis? Movement analysis is facilitated by the acquisition of objective data that describes a subject's movement and a physical examination and relevant medical history.
Patient Education
It is my goal as your chiropractor to keep you healthy, fully functional and enjoying wellness for life. A critical part of the treatment plan is to make sure the patient understands their condition and why a specific treatment is going to be beneficial as we work together towards your goals.
As of March 18, 2022 it is still recommended by Public Health to wear masks inside all public areas, so all staff at InMotion will continue to wear a mask in our common areas. We encourage our patients to do the same, especially any patient with a higher risk of severe infection. Once in the treatment room, your therapist would be happy to discuss removing your mask for the duration of the treatment.
We will no longer send out a screening email for each appointment, but we will have a reminder posted in the clinic of any symptoms to look out for. We ask, if you do have any COVID-19 symptoms, you remain home until you feel better or have completed your COVID-19 isolation, if required. 
We will continue to disinfect the clinic and our treatment rooms regularly, and have hand sanitizer available around the clinic. We thank you for your understanding as we all navigate our new normal, living with COVID-19.